Stud Dogs:
All countries
Denmark
United States
---
USCH&nbsp
Brymar's Ode An Das Haus Der Reiteralm
SDX, NRD, V Variety: Shorthair Year of Birth: 2011 Country: United States, AKC SR69096605 Hips: OFA-Excellent
Hunting Results: NAVHDA NA 77/III, AKC Field Pointed
Available for Stud to approved bitches.
Odis finished his CH in four shows. He has multiple all breed field trial placements and we are working hard to finish his FC this season to complete his Dual Championship.
He has a nice fast run with an intense point and loves to compete and please.
He has also already passed his AKC water test.
Frozen semen available.
Field Trial Placements
For more info please contact David Bryan Reynolds
Website
-
Email
Phone: (001) 432-349-9008
---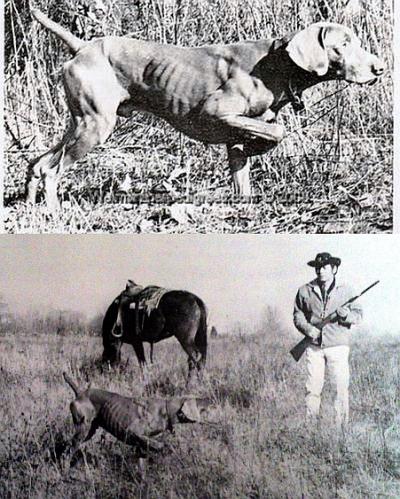 FCH, (AF)NFCH, NFCH&nbsp
Unserhund von Sieger
SDX, FROM, HOF Variety: Shorthair Year of Birth: 1968 Country: United States, AKC SA547651 / FDSB 805655 Hips:
Available for stud on a very limited basis and only to approved bitches.
Simply put, Hunser has been gone for over three decades and is still one of the top 3 or 4 field producing Weims in our history. His impact to our breed is seen through his progeny in not only field but conformation as well. He directly produced 1 CH, 11 FC's, 5 AFC's, 2 DC's, 4 NAFC's, and 2 NFC's. Three generations of his offspring boast 20 CH's, 1 VC, 60 FC's, 31 AFC's, 2 DC's, 8 NAFC's and 12 NFC's.
As the overall pedigree of the Field Weimaraner in the U.S. seems to be becoming more and more limited in it's diversity, this is an opportunity to re-inject some highly impactful genetics back into the breed. The foresight to collect this dog some 40 years ago is a testament to the love that owners William and Adele McGinty as well as Hunser's trainer and handler, Roy Pelton, had for our breed.
In a conversation with Roy, and in his words, "Hunser was not only the the best bird dog I ever ran but the best I have ever seen." This conversation was just a week and a half before his untimely passing when I informed him of the discovery of this semen and was researching first hand accounts of the dog. Hunser ran big, real big. He hunted hard and pointed intensely. He lived to the age of 15.
If you are interested in using Hunser in your program or have any questions please contact me directly to discuss.
David Bryan Reynolds
Website
-
Email
Phone: (001) 432-349-9008
---
Want to have YOUR stud dog in this list? See HERE for more info.